This is a nice trick to know when SHTF (low ammunition) or in an "I really need a slug right now, but I don't have one" situation.
Necessity is the mother of invention. Cut shells used to be legal ammo for deer in most states, and during the last great depression, it was the only ammo available to many deer hunters. It worked well with paper hulls back then, but even better with modern plastic hulls, using factory made rounds. Reloads may not have enough crimp grip to hold the slug together.
They are a low cost work around and should only be used in times of need.
Cut shells would not work in either a pump or a semi-auto shotgun (unless you load and shoot one at a time – I'll explain in a bit why).
But in a break-action double or single, they do allow you to have slug power with cheapo bird shot. And it shows that our ancestors, who depended on their one shotgun for food and protection, were able to adapt and overcome, even with limited resources- they did not have slug ammo shells.
Warning: In some rare cases, part of the plastic shot shell hull gets left behind in the barrel of the shotgun after firing. With a break-open gun, you can actually look down the barrels very easily from the chamber end to verify before the next shot that the barrel is actually clear of obstructions. If a cut shell cycled in a pump or semi, and you didn't check the barrel, you can easily blow up the gun with the next shot. So… for "almost safe" use … try it with a break-open gun only, check the barrel after every shoot and use it only when in real need.
This guy is making his cut above the wad cup and below the wad petals, right in the "shock absorber" section of the wad.
You may also like: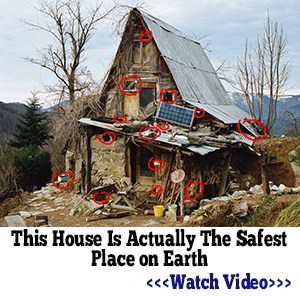 I Lived Without Running Water For One Year. Here's What I Learned
Cheap and Easy Way to Build a Root Cellar in Your Backyard (Video)
9 Things To Do Before The 2023 Economic Collapse