I think that the idea of building a safe room with a secret bookcase door was long ago inoculated in my mind … probably when I was a child.
But now I find it more practical than ever. My food reserves, water, my AR-15, my ammo and other things are finally stored properly without anyone suspecting it. On top of that it's nice to know that in a crisis I have a place to hide in case I'm outgunned by looters. Although, this is probably not the best example. It's just nice to have a hideout for you, for a loved one or for something you value.
Choosing the perfect spot for your safe room and for your secret bookcase door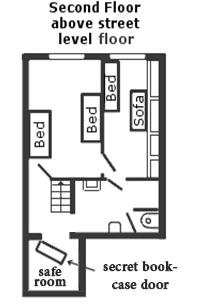 Make sure to spend as much time as needed on this project, don't rush things since the result will be much more satisfying if you're careful and do everything properly. Just take a look right now and examine your house. My advice is to pick a small spot that already has 3 or 2 walls, so you won't have to build them yourself. Many houses have small spaces which we don't really use, except for depositing useless things.
Be aware that your safe room should have NO windows. First, because one may spot the window from the outside and the "inexistence" of the window from the inside. So your hideout would be compromised. And second, because it's a much better and cooler place to stockpile food and other goods.
Having no windows means you want to pick a spot with a light source but with the switch on the inside. Otherwise your safe room would also be compromised. If you don't find such a spot the next best thing is to find one with a socket so you may plug in a lamp. If you don't find even this kind of space in your house then just store a flashlight and a couple of batteries in your safe room.
The opening mechanism
A common mistake people do when building a secret bookcase door is not taking into consideration the opening mechanism.
A bookcase door is much heavier than one may think. So swinging on regular butt hinges will almost surely be a problem. Regular hinges will always sag! There are a few strong hinges specially designed for bookcase secret doors that can support a weight of 154 lbs. (2 hinges). A bit pricy given the fact that one hinge costs around $100.