As the Native Americans and early settlers knew, if you find cattails you have 4 of the 5 things you need life.
You have the water in which they grow to drink (probably best to boil it for a while of course), you can eat them as food, burn them to make a fire, and weave them to make a structure to sleep under.
Cattails, which are from the scientific genus of Typha, have been used for hundreds of years for all these purposes. Nutrition-wise they are rich in vitamins A, B, and C, and are filled with potassium and phosphorus.
They produce more starch per acre than any other plant known, more than, rice, yams, and even potatoes.
But for reasons that are quite unclear to me they are not as commonly cultivated or harvested as they should be. If you think of the cattail as a huge spring onion, that gives you all the uses you can put it towards.
Related: 50+ Survival Uses For Cattails
If you are feeling a bit peckish while out fishing or on a hike with a stream nearby it is likely that you can find cattails at the water's edge.
Harvesting
There are two main varieties in the United States, Typhus latifolia and Tyhpus angustifolia and either one is good eating. In a pinch, all you really have to do is pull them up, wash them off, and take a bite.
The most tender parts are usually in the ground or just above it so make sure when you are pulling out them out that you get all the way down to the rhizomes (their roots) or as close as you can.
If you plan on taking them home, you can leave the top two-thirds behind at the river's edge as it is usually too tough and fibrous.
Once home, wash them off again, cut off the bottom most root system and just above the where it starts to go green or brown.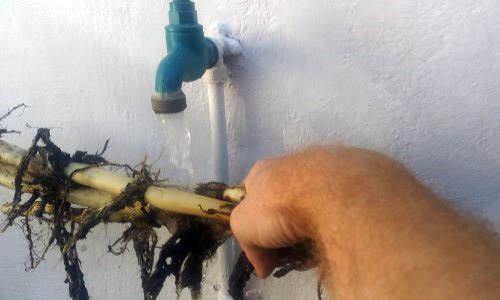 Make you sure you check in the top part of your stalk for Arrowhead beetle grubs as they like to hide out there.
You could eat them apparently, but I never have. Fish love them so they are good for bait, however.
Depending on the size of your cattail, you should have at least 5 or 6 inches of good stuff left. Then strip off the outer couple layers, it should peal just like a leak, or spring onion, until you get to the more tender inner core.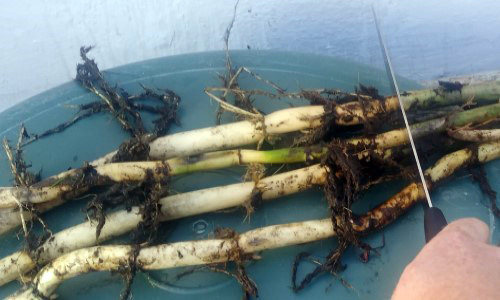 With your cattail thusly prepared you can now cook with it in any number of dishes.
Chop it up and add it to soups just like you would a leek or use it as a garnish on top of potatoes. You can even use it in a stir fry cut into longer thin pieces.
If you are looking to store your cattail for longer than a week or two in the refrigerator, one of my favorite ways of preserving them is by pickling them just like you would cucumbers or onions.
Preserving
Below I am going to share with you my recipe; but really any pickling concoction you like to use will work just fine. If you like chilli, add it, if you want to substitute white wine for the sugar, then you are more than welcome, just reduce the amount of vinegar.
As always, the most important part to canning pickled vegetables is to make sure your jar is sterile before putting in your ingredients.
As far as how long to leave your cattails to pickle, I find one month to be the minimum time necessary for your pickling liquid to really infuse into the cattails, but two months is better. When they are ready, eat them just like you would a pickled cucumber or onion, straight from the jar.
What You Will Need
The ingredients for this recipe are easily found at your neighborhood grocery store.
Foraging for cattails is the fun part. Cattails bloom in March through May and have that very distinctive "cattail" flower so if you are unsure what a cattail looks like it is probably best to go foraging for them when they are easiest to identify.
Related: 16 Wild Edibles You Didn't Know You Could Forage For
There are a couple water grasses that look similar to a cattail when they aren't flowering and which are decidedly NOT good eating, so if you are foraging out of their flowering season make sure you know what you are picking.
Cattails don't have a strong smell, so if the thing you are picking is pungent, it probably isn't a cattail.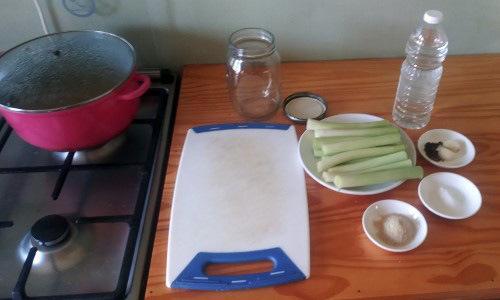 Cattails (the amount really depends on how much you want to pickle. I find four or five good size stalks plenty to fill a mason jar)
2 tablespoons sugar (I like brown sugar but you can use white just as well)
1 tablespoon salt
1 teaspoon black peppercorns
2 large cloves of garlic peeled
White spirit vinegar (enough to fill the mason jar once full of cattail.
A mason jar
A knife
A pot to sterilize your jar
Preparing Your Cattails
1. As explained above, clean, trim, and peel your cattails and then cut them into pieces short enough that they will fit into a mason jar.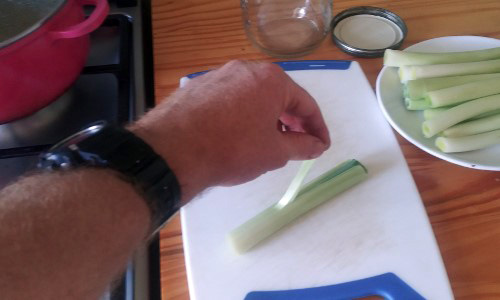 2. Sterilize your jar. Get some water up to a rolling boil. Ad your mason jar and then cover the pot and leave it in after it returns to a roiling boil for at least 10 minutes.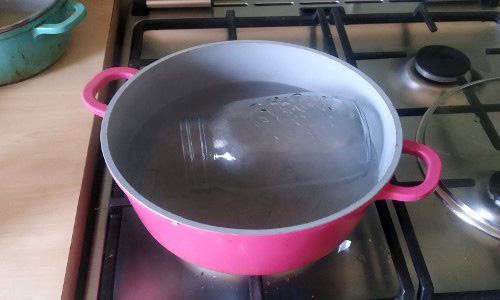 Then take it out of the water carefully with a pair of tongs.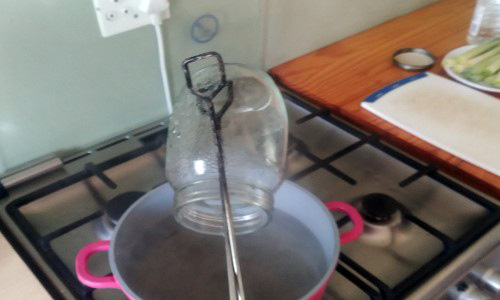 3. Add the pickling spices to the jar.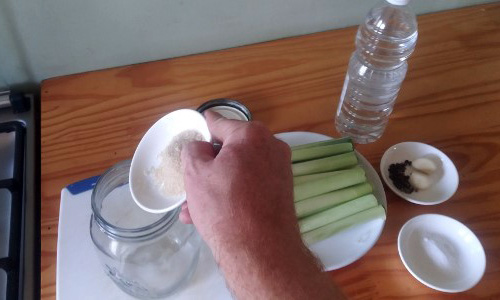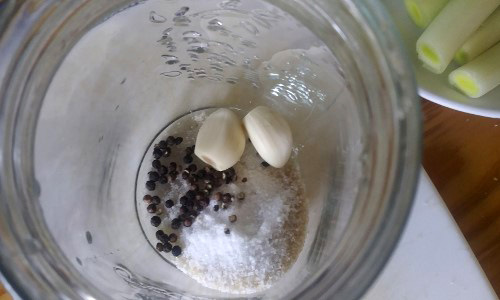 4. Then add your prepared cattails. Push them in quite tight.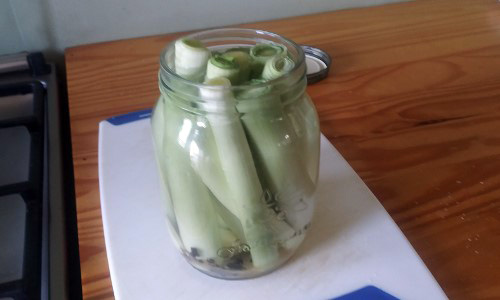 5. Last pour in your white spirit vinegar cap it tightly.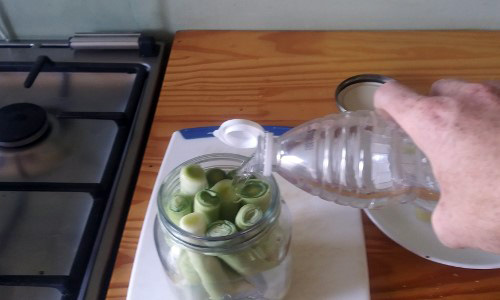 6. Tip it upside down and shake it a few times so that the pickling spices dissolve easily. Then return the filled mason jar to your water bath pot and let it boil for another 10 minutes.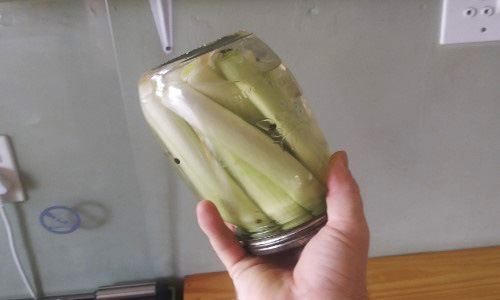 7. That's it! With a little patience you will have some crisp and refreshing pickled cattails to eat.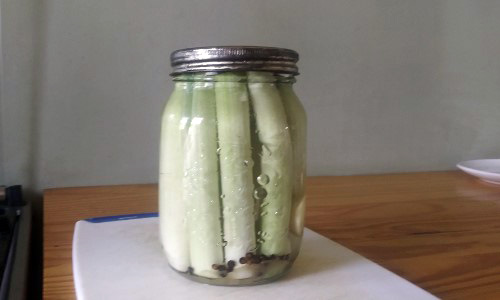 Storage
Like most canned foods it is best to store your pickled cattails in a cooler location that doesn't experience big temperature fluctuations like a cellar or basement.
Don't, however put the jars that you have taken fresh from the boiling water bath directly into a refrigerator to cool. Let them cool slowly at room temperature.
You will know the canning process has worked if you can't push down the "button" on the can lid. If it the button does depress, don't worry you can either repeat the process or just pop them in the refrigerator after they have cooled down.
The pickling brine, because it is so acidic, is itself quite good at preserving its contents and keeping nasty bacteria at bay. In the refrigerator your pickled cattails will last at least 6 months.
On the other hand if your canning efforts were successful you can easily store your pickled cattails for a couple of years in your cellar.
Once you've opened them either eat them within a couple of weeks or store them the refrigerator.
Happy pickling!
You may also like: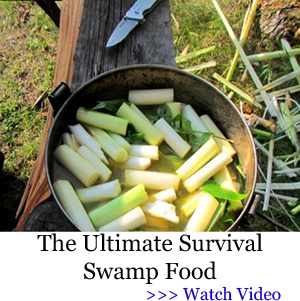 How To Make Your Own Salt For SHTF
10 Deadly Canning Mistakes You Need To Stop Making Right Now (Video)
Debunking Expiration Dates – What You Need to Know
25 Little Known Survival Uses For Tree Bark