The "yellow jackets" are rioting in France. God only knows what is coming for us in 2020. America seems to be cozying up with the idea of civil unrest. You could even make the argument that rubble will be the biggest resource on the world stage.
It's easy to understand how, without a major disaster, we could find ourselves slowly slipping into a collapsed society where commerce has failed, and the buildings are hollowed out from flame.
This brings us to the topic of this article. In a bleak future like the one I mentioned, dealing with cooking and heating your home in the winter will be a challenge. If we sit idly by and watch the world descend into chaos, we won't have the convenience at our fingertips.
I set out to play around with the creation of a super simple, heating and cooking system from as few items as possible. The goal was to see if I could both heat a room and boil water with a super simplistic improvised heater.
The results were very interesting, to say the least.
Where I Started
The fuel source was vegetable oil. While cooking oil is not an abundant prep in most people's homes, it can be used to make candles and lanterns. It works quite well if you construct something like a vegetable oil lantern. This was step number one for me.
Vegetable Oil Candles
I thought it best to create these candles as a scavenged item as well. Using 4oz ball jars I simply punctured the lid and then fed a torn, oil soaked, wash cloth through the lid. Then I filled the jar with vegetable oil and secured the lid. These would be my heat sources for the experiment.
Related: How To Make Survival Lamps With Used Cooking Oil and Mason Jars
The Heater
There were only two other components to this build. The first were the concrete bricks and the second was the cookie sheet.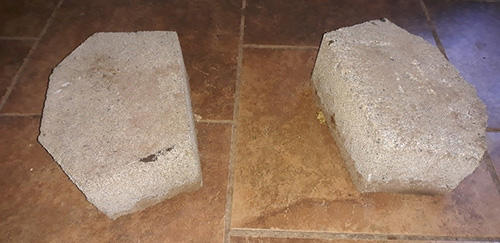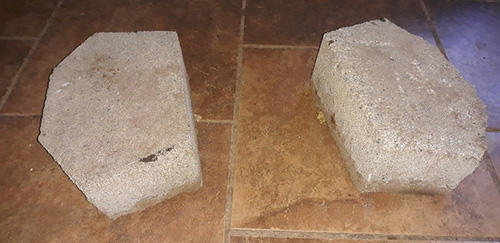 I used a cookie sheet because I was interested in something that would pass heat through it easily. The goal was not just to heat the room but also to see how much heat we could create in order to possibly boil water. I felt using thicker steel or cast iron would be counter productive because my heat output was very limited.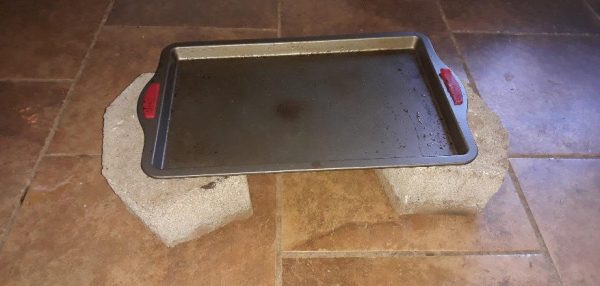 It should be noted that I also tried this experiment with a Crisco candle and it woefully underperformed. I wasn't surprised considering the small amount of heat they produce. They are really a light source and not much else. Still, it colored my expectations of how it would go with these vegetable oils candles. I was expecting much less than what I got.
Related: How To Make Your Own Solar Water Heater
The Experiment
After soaking the torn wash cloth pieces in oil overnight, they went up instantly. The flame and the heat off these larger "wicks" was astounding. In fact, they started burning the Teflon from the bottom of the cookie sheet and in moments I had to open the door to let out the black smoke. I am sure those fumes will come back to haunt me in my later years.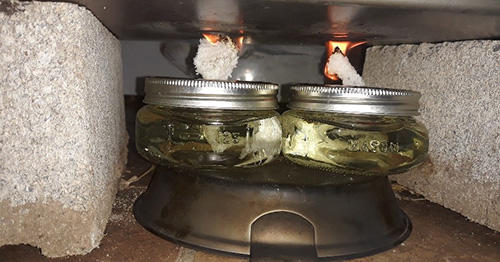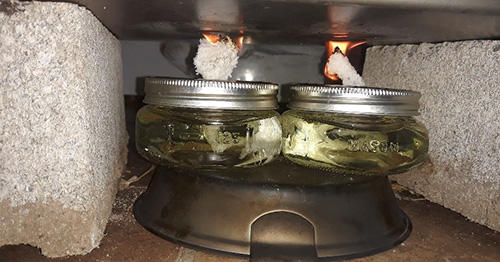 Needless to say, the candles overperformed and in a matter of seconds the heat was not just coming out from under the heater but also emanating through the cookie sheet. The flames were directly touching the metal and it was causing some dark spots to appear through the metal. By this point I felt very confident in this build and its ability to heat this already warm room.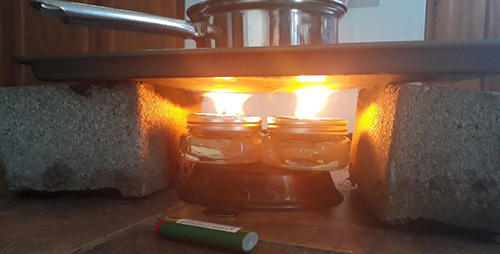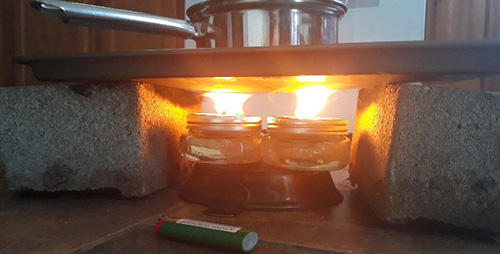 If I were in a room that was 40-50 degrees, the heat coming from this setup would have been like a dream.
Related: 7 Primitive Cooking Methods You Still Need to Know Today
The Water
Once the wicks burnt down a bit and the oil candles seemed to reach stasis I decided to move forward with the effort of boiling water. I grabbed a saucepot with a thin bottom and added just 1\4 cup of water, about. I wanted to use a very small amount because I knew that would boil fastest.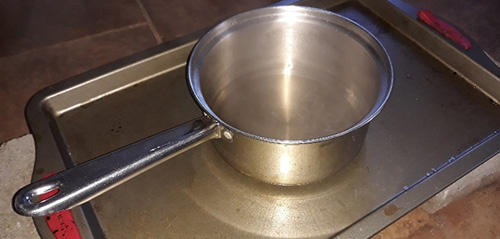 After about 10 minutes the water was warm, but it wasn't hot. Though the heat was very strong through the sheet and coming from the sides of the heater it didn't seem to have enough gusto to bring the water to a boil.
That was when I decided to give the water a helping hand. I brought the small amount to a rapid boil and then placed it back on the heater. My hope was that it would slow at first but heat back up in a hurry. No. It didn't even simmer. The amount of heat needed to boil water is a lot more than you might expect.
This makes those gasifier camping stoves even more impressive!
I left the heater on for about 20 more minutes and when out on the back-stoop wit the door open. Thankfully it was a very cold day out and frost was still clinging to the leaves tucked away in the shadows. I wanted to get cold. I wanted my hands to turn red, so I could experience the heat of this contraption coming in form out of the cold. It didn't take long.
The true value of this heater shown through when I came back in from the cold. Hovering my hands over the metal was like warming them over a radiator. That is what it reminded me of most. That type of emanating heat was produced through the cookie sheet.
The sheet was beginning to warm from the heat and I don't know how many times you could use this piece of metal but at that point I removed it and snuffed the candles out.
I truly underestimated the power of these vegetable oil lamps, lanterns, candles or whatever they are. This setup, however crude, is effective. I feel like you could scavenge something like this in the worst of scenarios.
At its core it's a couple rocks, a scrap of metal, some torn cloth, two containers and oil to fuel it all. Even in a home heated at 70 degrees the heat was apparent, if you were freezing in a hollowed-out shelter in an urban collapse this thing would be like a dream.
You may also like: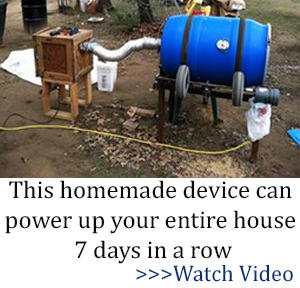 How to Make Your Own Semi-Automatic Off the Grid Washing Machine (No Electricity)
Arizona Farmer Accidently Discovers Trick to Turn Air into Water (Video)
How To Make 30 Hours Survival Candles with Soy Wax