If you find poison ivy (Toxicodendron radicans) on your property, you need to act quickly, but with caution. If you allow the plant to take hold and spread, you'll have a major fight to get rid of it. Most people develop a painful, itchy, blistering rash on contact with the vine, so a few precautions are in order.
Poison ivy is a perennial vine that spreads by underground runners. It can be difficult to remove but leaving it on your property puts everyone in jeopardy. Before beginning, take the time to understand the process completely and make sure you have everything you need before starting. You do not want to have to run to the hardware store in the middle, possibly contaminating your car.
You Will Need:
Old clothing, gloves, boots, socks, head covering, goggles, breathing mask
Duct tape
Shovel, pruning shears, rake
Bottle of chlorine bleach or weed killer
Heavy plastic bags
Rubbing alcohol
Strong soap and cold water
Identifying Poison Ivy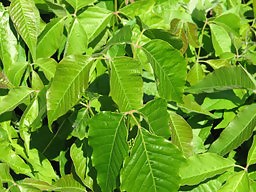 The appearance of poison ivy can vary depending on the part of the country you live in. I refer to the plant here as a vine, but it can also have an erect woody shrub appearance or grow as a trailing shrub. It often grows on trees, fencing, or the land surface. The rhyme "leaves of three, leave it be" is a good way to identify the plant. Poison ivy has three green leaflets that make up a complex leaf. "Berries white, run in fright" is another good childhood rhyme that works also.
Dress for the Job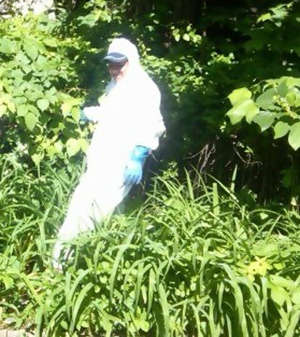 Before beginning, you should dress in clothes that cover you from head to toe.
Long pants, long sleeves, boots and socks, gloves, head covering, goggles, and a breathing mask. Tuck your pants into your boots and your sleeves into the gloves.
Then use duct tape to seal the sleeves and pants legs so that no leaves or oils can get to your skin.
Even if you do not normally react to poison ivy, take precautions.
Related: The Long-Forgotten Cheesecloth
Worst Way to Get Rid of Poison Ivy
My father-in-law made the mistake that many people make. He removed all the plants and put them in a pile to burn. Unfortunately, the smoke carries the oils from the plant and can cause a bad reaction to people downwind, sometimes for miles.
He inhaled some of the smoke and ended up with a horrible external rash and a serious lung problem. Do not burn poison ivy, it can cause serious problems to anyone who comes into contact with the smoke.
Choose a Calm Day
You want to do this on a calm day without much wind. You don't want the plants or oils getting blown around or back onto you. Choosing a calm day give you better control of the plants.
Dig Up the Plants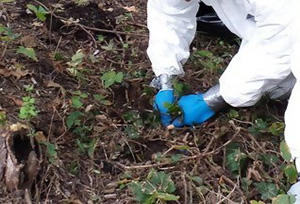 If you have only a few vines, dig them up completely, roots and all. Place the plants and roots in a plastic garbage bag and tie the bags closed for disposal. If you have a large area covered in poison ivy, cut the vines off at ground level and bag the vines. Then dig up as many roots as possible or spray the area with a weed killer or with chlorine bleach. Rake through the soil to remove all root parts possible.
Any roots that remain may sprout again, so keep a diligent eye on the area and be proactive if new sprouts show up. If you act quickly and remove each new sprout, you should be able to defeat poison ivy within the year. Ignoring new shoots allows the plant to return and spread. You may be fighting poison ivy for many years to come.
Related: BOB from the Dollar Store for $50
Disposing of the Plants
Bag the plant in heavy plastic bags and tie them securely. Put them in the trash for disposal or take them to a lawn-waste disposal facility.
Clean Your Tools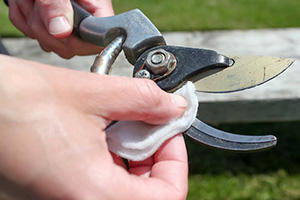 Cleaning your tools is an important step in the process. If you skip this step, you may end up with a poison ivy rash next time you use them and have no idea what happened.
Clean the entire tool, including the handle, with rubbing alcohol.
Give them a thorough disinfecting, then oil the tools before putting them away.
Clean Your Clothing
First, dispose of the gloves you used, and your face mask, if it is disposable. Wash the goggles and boots with warm soapy water and a garden hose.
Wash your clothes separately, running them through the wash cycle 3 times in hot water to be sure they are completely cleaned and rinsed. A better solution is to wear old clothes and toss them out when you are done.
Take a cold shower and scrub your skin with a strong soap. Hot water will open your pores and allow the oil into your pores.
Once you've removed the poison ivy, enjoy your space knowing that your family is safe from harmful rashes. Keep an eye on the area, however, making sure that any new growth is treated immediately. Keeping a diligent eye out for new growth can help you win the battle against poison ivy.
You may also like: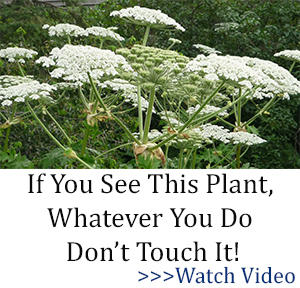 Identifying Your Backyard Pharmacy
This Bug Will Kill Most Americans During The Next Crisis (Video)
7 Medicines You Should Know How To Make At Home
Edibility Test: Find Out Which Backyard Weeds are Edible
Burdock: The Annoying Weed That Can Save Your Life