As a prepper, ensuring the long-term shelf stability of your food supplies is a paramount concern. One essential protein source that deserves your attention is sausage—an incredibly versatile ingredient that can elevate various meals, from breakfast to dinner.
Pressure canning is a valuable preservation technique that ensures food safety and extends the shelf life of various ingredients, including sausage. By canning sausage, preppers can eliminate the need for refrigeration, minimize waste, and maximize the efficiency of storage space.
Canning sausage is not only a convenient way to store protein-rich food but also ensures its longevity and safety. By following these clear and concise directions, utilizing the necessary equipment, and implementing proper safety precautions, you can be confident in preparing and preserving delicious sausage varieties for future use.
Equipment Needed
Glass canning jars with lids and bands
Pressure canner
Wide-mouth funnel
Jar lifter
Magnetic lid lifter
Spatula or bubble freer
Skillet or griddle
Related: 7 Deadly Canning Mistakes Even Smart People Make
Sausage Canning Safety Precautions
Ensure all equipment is thoroughly cleaned and in good working condition.
Follow proper food handling and hygiene practices.
Use only fresh, high-quality sausage.
Discard any sausage that shows signs of spoilage before canning.
Always follow approved canning methods and times for your specific altitude.
Never consume canned food with an unusual odor or appearance.
Canning Sausage Links
Canning Crumbled Sausage
Cook crumbled sausage completely until browned. Remove excess fat by draining the sausage on paper towels. Allow the crumbled sausage to cool completely before canning.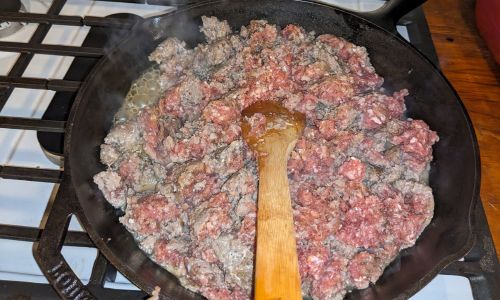 To can crumbled sausage meat, simply follow the same instructions provided for the sausage links.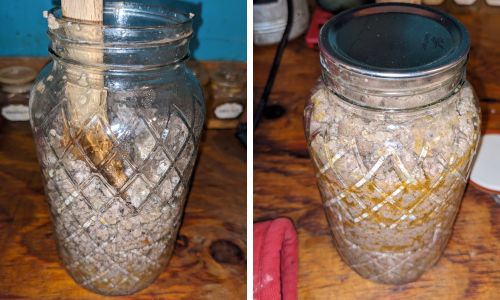 By following these step-by-step instructions and adhering to safety precautions, you can successfully can sausage links and crumbled sausage to add to your pantry.
During disasters when access to fresh ingredients is limited, canned sausage becomes a valuable lifeline. Experts agree that having a diverse range of preserved food options is essential for emergency preparedness. Canned sausage serves as a reliable, protein-rich ingredient that can sustain individuals and families during difficult times.
With its versatility and protein-packed nature, canned sausage can enhance a variety of meals, providing comfort and sustenance to individuals and families when resources are scarce. Start canning sausage today and enjoy peace of mind knowing you have a reliable protein source in your emergency pantry.
You may also like: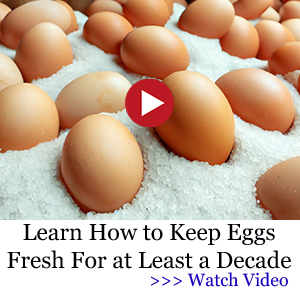 It's About Time You Started Growing Nature's Ibuprofen in Your Backyard Too
An Insanely Effective Way to Build a 5-Year Food Stockpile (Video)
No Grid Survival Projects: Book Review
Common Habits That Could Make You a Target for Looters