Murphy's Law exists. We all know that. Entropy is a thing, and things tend to break down when we least expect them to.
It's for this reason that the old prepper adage was coined, "Two is one, one is none". This is why we look at having backup gear and creating backup systems, is it not?
Because if your one and only flashlight gives out on you while you're in a disaster setting in the middle of the night, guess what? You have no other means of giving light. Once SHTF, that can very easily mean the difference between life and death.
And while having backup equipment and alternate systems is a fantastic part of prepping, another key factor is to avoid choosing bad equipment in the first place. The problem, however, is that sometimes it's not apparent that something is a bad piece of equipment until it's too late.
Related: 13 Weird Survival Tools Every Prepper Should Stockpile
So, to help you avoid these types of situations, let's take a look at five tools and types of gear to avoid when disaster strikes.
Rubber Duck Antennas
As a ham radio operator, I absolutely detest rubber duck antennas.
I do think that they have their place (inter-squad comms, where your entire team is less than 1km from each other), but as a whole, your best bet is to upgrade the stock antenna on your UV-5R as quick as possible.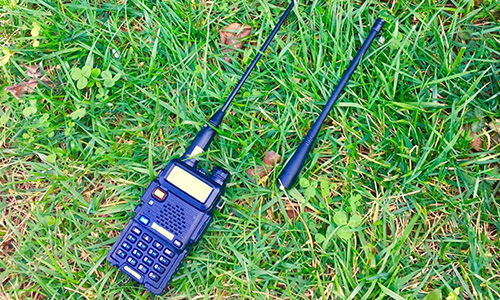 There are a couple of reasons for this:
First, if you end up in a WROL situation, your rubber duck will not allow you to get your comms anywhere near as far as you would like. You'll be stuck with a very limited degree of range for the sole reason that your antenna isn't made for better.
Secondly, your rubber duck is an omnidirectional antenna. This means that it's going to be broadcasting your transmission in all directions around you. In some situations – such as if you're lost and desperately need to find help – this is perfectly acceptable.
Related: How To Turn Your CB Car Radio Into A Powerful Transmitter
However, if you're in a situation where you need to ensure that your comms are secure, using an omnidirectional antenna is a surefire way to end up being intercepted and likely plotted on a map as well.
So, do what you can to avoid rubber duck antennas.
Use This Instead
Instead, I highly recommend either investing in, or learning how to build a Yagi antenna. These are directional antennas, meaning that they broadcast your transmission in one direction only.
Aside from greatly improving your comms security, these also drastically improve the range of your transmission.
Non-Rechargeable Batteries
Battery-powered devices are great for grid-down-type events. They still work, giving you light, heat, AC, and a host of other benefits that you wouldn't have were you solely dependent upon the electrical grid for everything you use that requires electricity.
The only problems are the batteries themselves. Aside from being incredibly expensive, I've found that virtually all batteries out there have a rather obnoxious short shelf life.
This means that you may spend $300 on disposable batteries such as AAs, D, and C, and have them sitting on a shelf for a couple of years before the doo-doo hits the fan, only to discover that they no longer have a charge.
While yes, you should be properly rotating your stock, the fact of the matter is that shelve lives can absolutely stink. I try to buy Duracell when I have to buy non-rechargeable as they seem to last longer.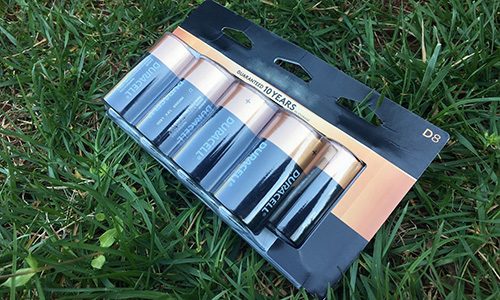 However, what happens once you burn through your battery stores? If you don't have some means of getting new electrical power, once you run out of batteries, you're out of luck as well.
Related: Rescuing And Restoring Almost Dead Lead-Acid Batteries
Use This Instead
Rechargeable batteries are the way to go, bar none. I changed my mind on this topic after reading Jeffrey Yago's Lights On. What Yago recommends are the following (and I concur):
• Two sets of rechargeable nickel-metal hydride (Ni-MH) batteries for each battery powered device. These will store 2-3x the energy levels of older nickel-cadmium (Ni-Cd) batteries and can be recharged over a thousand times before they go bad. If financially possible, LSD NiMH batteries are even better. They'll hold 90% charges for over a year, and 75% charges for up to two years.
• Rechargeable battery chargers – These are readily available in a large number of sizes online.
• A fold up solar charger – These can greatly improve your ability to always have electricity on hand and are useful for charging items such as laptops and cell phones that don't have removable batteries.
Generators
Though I have succumbed to the temptation here myself, in hindsight, I truly think this is a bad purchase for a TEOTWAWKI-type event.
Here's why:
To begin with, generators require gas – something that's going to be incredibly hard to find in a largescale disaster situation. Though there are options out there that also utilize propane – which really does give you a lot more options – within the span of a week, you're likely to have a very expensive hunk of metal sitting outside your back door.
You're probably going to want to save whatever gasoline that you do have on hand for your vehicles as well. Your ability to move long distances quickly with heavy loads is likely to be more important for your safety and well-being than keeping your fridge cool will be. Just something to think about.
Related: If You Have A Generator, Do This Immediately
Secondly, generators make a ton of noise. You can easily tell which of your neighbors have a generator any time that the power goes out simply because of the sheer amount of noise that these things create. In a true scenario where it's hit the fan, all this does is broadcast to the rest of society who has electricity (and likely other goodies too).
Use This Instead
Rather than rely upon generators and gasoline for your electricity, I highly recommend doing what you can to switch over to battery power now while it's still possible. That means finding eight to sixteen 12-volt gel batteries that you can make an off-grid battery bank with.
That's not all you're going to need for such a solution, however.
You're also going to need to ensure that you have a proper inverter (to make your 12-volt DC battery voltage into 120-volt 60-cycle AC to power any devices you have that won't work with 12-volt DC), and the appropriate cabling, wiring, and fuses that you would need to keep such a system up and running.
Related: How To Turn Used Car Batteries Into A Survival Power Bank
Canister-Fueled Camping Stoves
Yep, I've got one of these too, and once more this isn't a good bet for when it hits the fan.
While these work great for while everything is still "normal" – they're quick to ignite, they cook pretty quickly, it's easy to adjust the flame, and gas is pretty much everywhere – if you have to rely on these in a grid down situation, you're going to be screwed.
What happens when you finally run out of fuel? I'll tell you what happens. You end up eating a lot of cold meals, and a lot less meat.
Use This Instead
I highly recommend looking into the purchase of a rocket stove for your prepping cookware. A rocket stove is easy to ignite and all it needs are combustible materials to work. So as long as you can find plenty of twigs, leaves, and dried grass, you're in business.
I've looked through the market rather extensively when it comes to these types of stoves, and I can say that the three best options out there are the following:
• The Minuteman Rocket Stove – I think this is the best all-around stove. It's highly portable, can be left in a BOV and forgotten about, can store fuel inside of it, and is tough as a tank.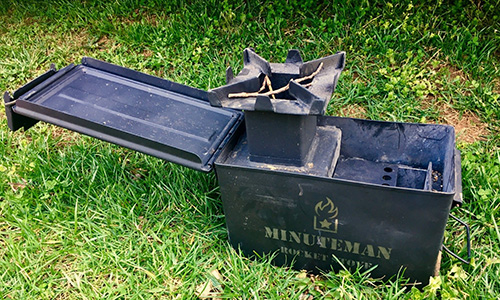 • The Minuteman K Stove – This is a fantastic base camp model. You're not going to be hauling this out in the woods with you (it's too heavy), but this would work fantastic at your survival retreat and in cases where you need to cook large meals for a lot of people.
• The Rocket King Mini – If you're going to be out in the bush with nothing more than what you can carry on your back, I believe this is the option that you need to go for. The whole thing packs up flat and weighs less than two pounds. That's hard to beat for when space and weight are coming in at a premium.
Magnesium Fire Starters
One of the core skillsets of a prepper is the knowledge of how to start a fire. It's because of this that the survivalist market is saturated with different types of fire starters.
If you've been into prepping for any length of time whatsoever, you likely have one of those little magnesium fire striker keychains laying about somewhere.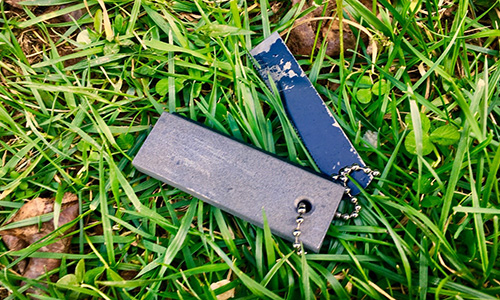 I really don't like these. Here's why:
I firmly believe that these are some of the worst commercial fire starters on the planet. I do more busting my knuckles than fire starting when I use them, they're hard to direct the sparks with, and attempting to hold onto that little metal strip is like trying to play guitar with a dime.
It's flimsy, annoying, and leaves you wanting to throw the whole thing into the woods.
Use This Instead
I have two alternatives that I greatly prefer over those cheap little fire strikers. The first is yet another Minuteman product (no, I'm not affiliated with them in any way).
• The Minuteman Forever 50 Fire Striker – This is easily my favorite fire striker on the market. I actually have something to hang onto while I'm using it, it produces a ton of sparks, and it's easy to direct the sparks exactly where I want them to be as well. I often start fires after just the first strike with these guys. Seriously, they're fantastic, and you'll agree with me.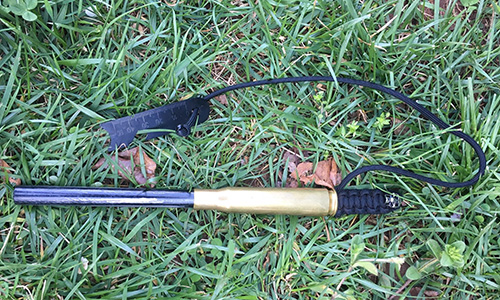 • Bic Lighters – While not the coolest item on this list, it's hard to go wrong with a steady collection of cheap Bic lighters. For just $5 you can get about six of these things and then stow them all over the place. They're incredibly handy, they're cheap, and they're teeny too. This makes them a great addition to your EDC, and an easy way to start a fire on the fly.
Final Thoughts
There's an old English proverb that goes, "I'm too poor to afford cheap tools". As a whole, I think the same principle applies to a lot of different aspects of prepping as well.
However, sometimes even the expensive items (like a generator) can be deceiving in their usefulness.
This is one of the reasons that it's so important to be proficient in your preps. Know what you have and train with it regularly. It's only by doing so that you'll come to have a fuller understanding of what you truly have there in front of you.
This in turn will help to show you where you need to improve, where to quit wasting money, and the like.
Are there other tools and gear that you should avoid like the plague when disaster strikes that we didn't cover in the list above?
Have you any experience with anything that we did list? Let us know in the comments below!
You may also like: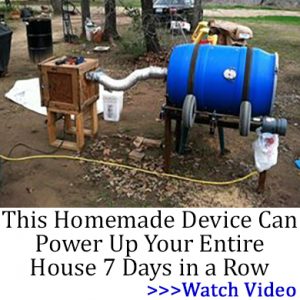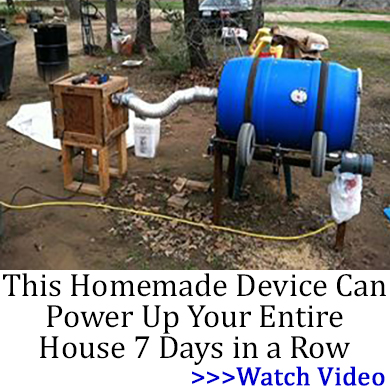 Finally, A Cheap Thermal Vision Device
DIY Back-Up Generator (Video)
How to Can Eggplant with Pepper for a Long Time Storage
36 PVC DIY Projects for Your Homestead
Delicious Recipes Using Cattails – "The Supermarket of the Swamp"