Having broadcasted in the prepping market for 7 years and written in it for nearly 5 it is clear to me that the plans make the prepper. When you really break it down you have to have processes built into your life to fall back on in an emergency.
While things like bushcraft skills and urban survival skills should be part of any preppers bag of tricks, you still need to direct all that skill. It is dangerous to run around a fallen world just DOING things because you can.
In survival you need direction. You need a clear beginning and end. You need to be able to evaluate each move you make and make the next one with a purpose.
That said…
Even a bulletproof EMP plan can falter under the right conditions. In this article I want to talk to you about 8 things that will kill your EMP plan.
#1. Inability to Gather Family
This is probably one of them most realistic and common issues that any prepper would face after an EMP. While you may have the plans and the gear in place, our wide-reaching world and economy often assures that we are far away from family. Here in Richmond its not uncommon to run into people who work in Washington D.C which is a 2 hour ride up I-95. I am sorry to say it, but it would be nearly impossible to reunite a family with that kind of space between them after an EMP.
Your EMP plan should have a serious meeting location built into it as well as lengths of time your family should wait. Imagine this, if Dad flew to Missouri and you live in Delaware but the city you live in has erupted into chaos. You could wait for Dad, but it might put your whole family at risk. You may have to bugout.
Once things get that variable, its not going to be pretty at all. It may just come down to luck!
#2. Immediate Martial Law
Getting a real read on the US government and their appreciation for the EMP threat is a tough mission. While it would seem like there is very little effort put into readying the nation for such an attack, we do know that the most military equipment has been built to withstand the effects of an EMP.
What we could see is a swift response from the government. In the blink of an eye we could see parts of big cities falling under martial law.
The ideal EMP plan puts you well on your way towards the BOL before martial law comes to be. Reason being, this is a system that is going to be rife with corruption. You will be under the thumb of a ruling military, even if it is the American military.
Once you are under that law it will be very hard to escape, and you will have to live under their rules. If this were to happen quickly after an EMP it would drastically affect your plans.
#3. Misinformation – Government too optimistic
If you are prepared for an EMP you may be able to pick up some form of emergency communications. Of course, this will only be possible if you have prepared or purchased an effective Faraday cage and stored things inside of it, like an emergency radio.
These emergency communications could be misleading, and you have to be prepared for that. They could be a looping message, or they could be hope of something that is not coming. While the intelligence that you gather will be important it's important that you still rely on your plans.
If you make the costly mistake of abandoning your own plans for the hopes that a government message is telling the truth or bringing help, it could be detrimental.
#4. No Focus on Self Sufficiency
Whether your EMP plan is to stay close and survive in your home or to bugout, you must have a serious focus on self-sufficiency. In fact, you should have some of those pieces moving already. You need to understand bushcraft, tree identification, hunting, fishing and navigation. Without these skills you will struggle to survive any EMP scenario.
Remember, only those things that can be made by hand will be made! The supermarkets will be gone, and people will be dying at an incredible rate. You will have to resettle or reestablish a lifestyle that will fit into this new world.
If your EMP plan does not include a healthy dose of self sufficiency or if you are unable to execute, you will struggle to survive. Practice makes perfect!
#5. Poor Faraday Cage Construction
As a writer in the prepper genre I have seen all sorts of creations in regard to EMP protection. I have seen insulated aluminum foil creations that look like they would fail almost immediately, to military grade products by companies like Transtector.
If your EMP plan is going to rely on things like communications and electronic information, you better have a solid Faraday cage.
Related: 10 Faraday Cages You Can Make at Home
#6. Immediate Military Takeover
Now, I am no general, but I have to imagine if I were going to take over a nation, particularly one as large as America, I would attack with an EMP. This attack would come in the dead of night and would be followed immediately by a wave of forces from the land, water and air. I picture paratroopers reigning down on major cities and places like Manhattan being under full siege.
In a scenario like this I doubt you would have the opportunity to react. Even if you had a Faraday cage would you be able to access it in a timely manner if you were under attack from enemy forces? This could throw a wrench in the works and cause you to panic more than take advantage of your bugout plan.
Dealing with a hostile military would mean that your immediate survival would trump all other things. You would likely have to leave the home base that has kept you safe. Your bugout plans may have to change depending on the location of military action.
#7. Failure of OPSEC
If you have not been a good steward of operational security, you may find that there are holes in your EMP plan because of the people around you. If too many people know you are a prepper they might wind up at your door when they realize that an EMP has affected all of the power and electronics in the nation. Since we are dealing with such severe consequences these people could be hostile as well.
While I believe that being a prepper is not something we need to keep as our darkest secret, I do think there are parts of our plans and details that people do not need to know about. I think Prepper is becoming less of a bad word and that is a good thing. Still, we need to remember that we do this to have the best options for survival.
#8. Living Near a Nuclear Power Plant
There is a tricky thing about building a machine that makes the same reaction as the sun it requires power from highly radioactive materials. The reactions also heat these materials and they require a cooling procedure. This process requires power. The EMP would cause massive nuclear disasters at all of America's 99 active power plants. Think Fukashima, but everywhere!
No matter what your plans are, if you live close to one of these nuclear power plants you are going to have to get away fast! The disaster will increase overtime as the facility is destroyed and the reactors continue to heat up. The situation of overloaded nuclear powerplants is one we don't often think of in an EMP but it will have devastating effects.
Never forget, its estimated that 90% of Americans would die in one year following an EMP! How can you become that 10%?
You may also like:
Y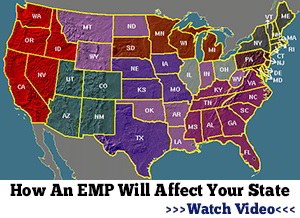 ou Will Not Survive an EMP Strike Without This
How To Make Your House Invisible To Looters (Video)