We're almost at the Fourth of July, and across the country everyone's gearing up to celebrate. It's the most American of holidays – literally, the day we celebrate our country's birth. These days we certainly like to mark the occasion in style. Most cities and towns will have some kind of event organized. There will probably be fireworks involved, and earlier in the day you're likely to find carnivals, contests for everything from sandcastle building to pie eating, and of course no shortage of trucks and stalls ready to sell you a beer, something to eat or an array of gimmicks and souvenirs.
The problem is, like a lot of celebrations now the Fourth can be – and usually is – exhausting and expensive. Everyone's encouraged to believe that, to have a good time, they need to go to more events and spend more money. Somewhere along the way, the meaning of the holiday gets lost in a blizzard of special outfits and red-white-blue ice cream. Most people are trying so hard to have a good time that they're never really going to achieve it.But it wasn't always like this. A few generations ago the Fourth of July was a simpler, less commercial celebration. Of course, society itself was simpler and less commercial. It was also a lot more robust, because people had the skills – and, more importantly, the self-reliant attitude – to do things for themselves. That applied to fixing up things around the house, of course, but also to celebrating occasions like the Fourth.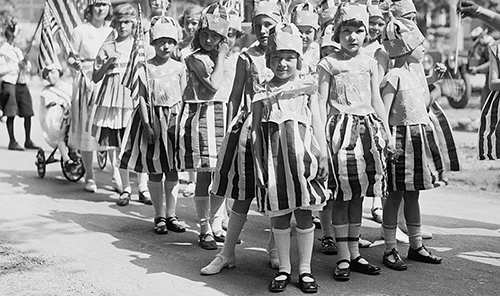 Now let's go off on what looks like a tangent but isn't really. Not long ago Peter Pry, a former CIA nuclear weapons expert who's now director of the EMP Task Force set up by Congress, was asked what people should do in the event of an EMP attack. Here's what he said:
"People should have a supply of food, water; have a generator. My father's generation, the great generation that have lived the Great Depression and survived World War Two, all of those people were basically what today we would describe as preppers.

They had seen government fail and they wanted to be their own line of defense for their own family – and had to be, during the Great Depression.

You know, my father fed his family by hunting woodchucks, and they heated the home by collecting coal that had fallen off the trains along railroad tracks.

When I was growing up we only lived on a quarter acre, but we had a garden on every inch of it. My mother was constantly canning against the day of who knows what – a nuclear war, a great depression."
Just look at what Pry is saying here. His father's family were self-reliant to an astonishing degree. Most Americans buy their food at the market; if you can afford to do that you don't hunt woodchucks for the pot, or use your whole yard as a vegetable garden. People heat their homes with gas, oil or electricity, all bought from a utility company. They don't use their initiative and go looking at curves in the railroad, searching for a few lumps of coal that might have fallen out of a tender.
We really are a society of consumers now; when we need something, our first thought is "Where can I buy that?" A century ago it was very different. Outside the big cities, buying something was the last resort – what you did when you couldn't make, grow or find it for yourself. And the annual Independence Day celebration held plenty examples of that attitude.
There have always been organized celebrations, of course. Bristol, Rhode Island, has held an annual parade every year since 1785 – the oldest parade in the USA. Other parades and festivals have been running since the 19th century. Today they mostly rely on corporate sponsorship; a hundred years ago they were more likely to be organized by local people, volunteering their own time to help their community celebrate.
Individual families also came together to organize and enjoy their own celebrations. The Independence Day picnic is an old tradition, but our grandparents' generation would never dream of buying a special ready-made meal to take with them, or picking up lunch from a truck at a festival. Instead picnics were prepared at home, usually with the whole family getting involved.
Because the Fourth was a special occasion a couple of extra chickens might be killed and roasted, to be served cold at the picnic. There were no fancy sandwiches from an artisan bakery; instead it would be cold cuts, cheese or jelly – and usually they would all be home made.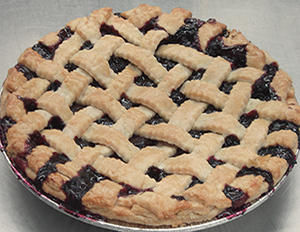 Today, you can go into any grocery store before the Fourth and find a huge selection of pies. Our grandparents made their own. If the family had fruit trees, canned fruit from last year's harvest would be turned into pie filling. Apples and cherries aren't just traditional because they make tasty pies; they also grow in most of the USA and can be easily preserved. That's important, because when you're making pies for the Fourth this year's fruit is still on the trees; you need to use what you canned or dried last fall.
The holiday itself was much more of a family event than it is now. Modern families tend to be fragmented. Divorce is a lot more common than it used to be, but even if both parents and the kids are still together people do their own thing a lot more. In the past, families were closer. They'd learned that the hard way.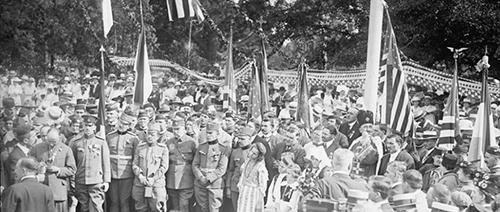 A century ago, when people gathered to celebrate the Fourth, America was involved in a major war for the first time in two generations. For the first time ever, hundreds of thousands of Americans were far from home fighting a war on another continent. Our army was spared the worst of that war's carnage, but a lot of Americans didn't come home. For the families left behind, and the soldiers themselves when they returned, the experience gave them a new appreciation of what they had. When families could be separated by events like the war, they wanted to make the most of the time they could be together.What our counterparts a century ago understood was that it's not how much you spend that makes for a good Fourth of July. Let's face it; who really goes to a picnic for the food? The day is about celebrating our history and independence in the company of the people who matter to you. Are you really going to have a better time lining up for overpriced food from a truck, than if you prepared a traditional picnic as a family and took it with you?
I believe that the Fourth of July, like most of our holidays now, is far too commercialized. We'd all be better off and happier if we took some tips from earlier generations, saved ourselves some money and enjoyed the day in a simpler way. Just as a bonus, doing it that way also helps build good prepper attitudes like self-reliance. And, at the end of the day, that's one of the values America was founded on.
You may also like: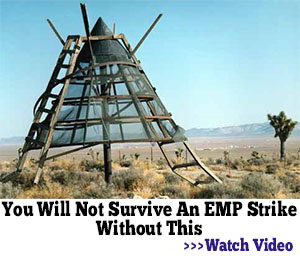 How Much Land Do You Need to Be Self-Sufficient?

The Common Vegetable that Will Increase Your Heart Attack Risk at Least Two-Fold (Video)
11 Food Storage Lessons Learned from WWI