How much is a cow or a chicken worth? Most of us will answer that question in dollar terms. But what happens to the value of livestock in a world where money has lost it's value, or hyper inflation sees the value of every dollar decrease daily? This article will ask that question to identify the best livestock to keep during an economic crisis.
Most people don't appreciate how the relative abundance of food keeps food prices low. An economic crisis would change that, making food expensive and increase the value of livestock.
All livestock will see an increase in value. Seeing as most of us are familiar with cattle and chickens, this article will rather explore a few less obvious choices.
Scarcity
Relative scarcity drives the price of any item in the market. If food becomes scarce, the prices of livestock will skyrocket. The secret to not falling victim to this is two fold.
The first option is to have possession of whatever commodity is undergoing the price increase, and the second is to de-couple yourself from dependence on it. In the case of livestock, this means that you own the "things" whose value is increasing, and because you can eat your own produce, you don't need to pay high prices for what you need.
But as the price of livestock increases, feed and medicine will also increase. Which could force you to sell livestock, or pay too much for medicine. That is why this article will look at animals that are tough survivors and can be free-ranged.
I a real crisis, livestock will attract criminals. You will need to factor this into your thinking.
Long Term Value
Imagine you have two hens, and intend to eat them. You could have food for maybe a few weeks. But what if you're only eating the eggs? Or only drinking the milk from your cow?
Long term value depends on the ability of an animal to supply regular produce. The value of chickens will reside rather in their eggs, than in their meat. The value of cows; in their milk and ability to reproduce. A young steer or bullock, will only be useful as meat for a set period of time, and then you're left with nothing.
Related: How to Preserve Eggs with Waterglass
Male Versus Female
In times of scarcity, a universal rule is that female animals have much more value than male's. Except when it comes to male animals that exhibit exceptional genetic traits. But one male, can father a vast number of offspring with many females.
The first rule of livestock for economic crisis time's is this:
Invest in a small number of really good male animals, and acquire as many genetically sound females as your resources can support.
Let's look at the pro's and con's of individual types of animals.
The Best Livestock To Raise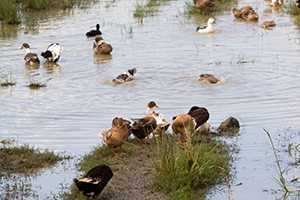 If we're talking about fowls, my focus here will be on ducks. Specifically, Khaki Campbell Ducks.
You will need to supply them with open water, like a dam or pond. I would suggest setting up a island or platform in the middle of the dam, and making the dam really deep. Condition them to sleep on the island with food and setting up their coup there.
The benefits of this is that it makes it harder for predators to reach them, including human predators. They can also escape onto the water in times of emergency.
Khaki's lay up to 300 eggs per year, and make good parents.
Another reason a dam is a good this idea, is that you can also keep fish.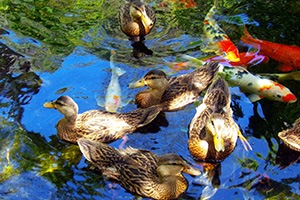 Fish will eat the ducks poop. You can also feed your fish chicken poop or the chopped intestines of slaughtered birds, keeping wastage to a minimum.
Secondly, the water from dams with birds and fish are much richer in nutrients and better for irrigation than clean water.
The final reason they are a good option is that they can be free ranged with ease. This will require a relatively large area, including water plants and reeds in your dam, but you will end up with a highly productive ecosystem that can stand alone and provide a lot of benefits, including the fish. I would start of with a few fingerlings of tilapia, carp and catfish in the dam.
Khaki Campbell's can supply you with large numbers of eggs while increasing the nutrient content of your irrigation water and feeding the fish. Water could act as protection against theft. Khaki's are renowned as meat ducks, so you can eat all surplus male animals. All in all, a good option for tough times.
Related: The Best Fowls to Raise for SHTF – Quail, Guineafowl, Chicken, Turkey, Emu, etc.
An Unusual Choice
Another suggestion is for pigeons. Yes, you read that right. I know pigeons are not livestock, but they have some value.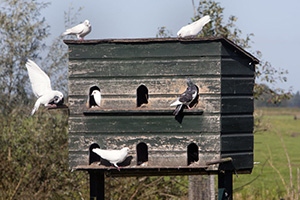 Some people call them rats with wings, because of the rate at which they can breed, an also survive on nothing but crumbs and trash.
Pigeons have a fair amount of meat, and are really low maintenance. Pigeon coups can house a large number of birds on a small area.
The first Rock Pigeons that came to the United States, came as food.
They start breeding young, and can have many offspring in a year. Pigeons tend to pair up and mate for life. Once you have established a small colony, you can open the coup up completely.  Pigeons will fend for themselves, but you will need to provide them with a reason to stay. Shelter, water and seeds from time to time will keep them sticking around.
The best way to eat pigeons is slow cooked in a pot. Pigeon stew or broth will be nutrient rich and provide a few inexpensive meals a week. Furthermore, you can keep quails as ground birds in pigeon coups. Pickled quail eggs are quite a delicacy.
A Grass Eating Livestock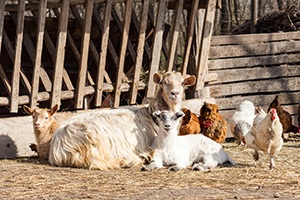 What I love about goats is that they will eat weeds, leaves and bark before they start eating grass, which makes them perfect to keep alongside grass eating livestock like sheep or cows.
Goats provide highly nutritious milk, from which cheese can be made. Their meat is almost identical to that of a sheep.
Many Goats produce offspring three times in two years. On average, a doe will have 2 kids per cycle. For a male animal, I recommend that you buy a good Boer Goat Billy. As for female's, I recommend Nubian and Saanen doe's. Doe's need to be bred in order to produce milk, and crosses between meat Billy's and dairy doe's produce the best meat producing offspring.
Goats are potentially not stolen as easily as sheep as they are wearier of people. If, however, you are milking your doe's, chances are they will be very accustomed to humans, so you will need to lock them up in pens or barns for the night. Goats can be successfully fed alfalfa hay which will be good for meat and milk production.
The benefits are that you will have an animal that out produces sheep in both milk and number of offspring, while at the same time placing less pressure on your grass and eating a greater variety of vegetation. Also, if you have no feed left, goats can be free-ranged with more success than sheep. Just beware, goats will have to be kept in well fenced area's, or they will relocate on their own. In the past, bells were hung around their necks for good reason!
A Great Protein Source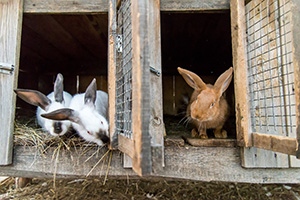 Rabbits are an often overlooked source of protein. Hunters will tell you that there is very little meat on a rabbit. And that is quite true.
But some breeds have really good meat producing genetics. Californians and New Zealand rabbits are both great meat producers.
A big advantage is that rabbits are quite happy with very little roaming space. Rabbits can also eat left over salad scraps and vegetable cuttings, providing a way of recycling your waste into protein.
Variety Is The Spice Of Life
Humans have depended on animals as a food source for many years. And unlike plants, there are no poisonous animals. Every part of an animal can either be eaten or used.
The animals mentioned in this article are not typically thought of as livestock, but all make for good eating. If properly managed, goats and ducks could keep your family fed indefinitely.
In times of economic crisis, it will be your animals, rather than your vegetable patch that provides the all-important protein and fats we as a species need to survive. Best you re-learn what your grandparents knew to ensure that you will be able to survive with ease.
You may also like: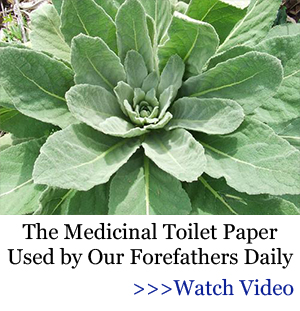 How To Understand The Signals From Animals Just Before A Natural Disaster Strikes
4 Lost Survival Lessons From The Heroes Who Tamed The Great Depression (Video)
Modern EMP Protection Upgrades
How To Raise Mini Cows For Prepping And SHTF
12 Ways To Make An Extra $1000 A Month On A Small Homestead