A couple of weeks ago we put the cat among the pigeons by asking if bugging out was always the best idea. Sometimes it is – but a lot of the time you have a better chance of surviving the S hitting the fan if you stay right where you are. That's why we think a bug-in plan is also a key element of your preparations. If you can stay right where you are you avoid the effort and danger of a move through a collapsing society, and you keep access to all the resources and tools that your home contains.
Of course, your home and its contents are only an asset if you can protect them and stay supplied with water, fuel and power. It's not just a case of going on with life as normal; you need a bug-in plan, and a big element of that plan is going to be defending your home.
We all think about how to protect our homes, but usually we're worried about preventing theft or home invasions – crimes committed by criminals working on their own or in small groups. In a SHTF scenario the threat could be a whole lot bigger. If you're the only one in the area with stocks of food, medications and fuel, you could easily become a target for a determined band of raiders who want your supplies. The precautions that will stop a teenager stealing your TV aren't going to keep out a couple of dozen armed men.
Prepper sites contain plenty of ideas for securing your home against an attack by looters. Some of them are great; others, if we're honest, are dangerously bad. The truth is we're accustomed to think in certain ways about how to defend a house, and it can be hard to adjust your thinking to face a whole new threat.
Who Knows Better?
There are plenty of people in the USA who've been professionally trained to deal with the threat of an armed attack on a house, though – soldiers and veterans. Since WW2, fighting in urban areas has played a huge part in warfare and it still does today. Every infantry soldier in the US Army and Marine Corps is trained in MOUT – Military Operations in Urban Terrain. The British call the same thing FIBUA, for Fighting In Built Up Areas (although the soldiers call it FISH – Fighting In Someone's House).
Military training can bring a lot to prepping, and it's particularly useful when it comes to bugging in. For most people working out how to defend their home is a pretty steep learning curve; for someone with MOUT training it's second nature. With that in mind, let's look at how a veteran's bug-in plan might be different from yours.
Related: My Personal Bug In Plan
Seeing Without Being Seen
A common saying in the modern military is "If you can see it, you can kill it". That's an over-simplification, but it's pretty much true that if you know where something is, and can throw enough men and firepower at it, you can destroy it. Veterans know all about the importance of not being seen, so they put a lot of effort into camouflage and concealment. It's hard to hide a house, but any sign of preparations is going to be pretty much invisible.
If you plan to stay in place you need to know what's happening in the area around your house and be ready to deter attackers as far away as possible. The last article on bugging in mentioned outposts as a way to control the area around your home. That's one option veterans are likely to use, but there are others. They'll plan for regular patrols on approach routes, where they can. Of course in a SHTF scenario they probably won't have enough manpower to patrol they way they'd like, so alarm devices will be used too. These can be sophisticated ones that set off an alarm or light in the house (probably beside the radio, which a veteran will always keep manned), or simple tripwire-operated noisemakers. They both have their advantages. A passive infrared sensor connected to a light on an alarm panel will let you know about intruders without alerting them, so you can be waiting for them when they arrive; a 12-gauge blank exploding close to them might scare them off.
Alarms and patrols are there to tell the veteran that intruders are approaching and the direction they're coming from. There will be defensive positions set up to cover every approach route, set up so that each position can protect its neighbors. Any dead ground that can't be fired on from at least one position will have obstacles in it, probably a low wire entanglement. This is a nasty little garden of stakes, pounded in to random heights with between six and 18 inches sticking up. A cat's cradle of wire is laced between the stakes, not quite tight enough that you can stand on the strands; nobody is getting through that in a hurry.
Dig To Defend
Soldiers hate digging, but they do a lot of it. When a veteran starts preparing his home for defense the first thing he reaches for will probably be a shovel. Bunkers are fine for checkpoints, but for fighting from, soldiers instinctively prefer a hole in the ground. A foxhole is harder to spot and, if you duck down inside it, proof against any bullet. Even if the attackers have a .50BMG that can punch though a log bunker, it's not going to get you underground. A wooden roof 18 inches above ground level, with a couple of layers of sandbags and some camouflage on top, will turn a simple hole into an almost impregnable fighting position.
Outposts and fighting positions might be linked to the house with sound-powered field telephones. Veterans love these things; they're cheap, simple, don't need batteries if the wires aren't too long, and can't be jammed. Again, the phone in the house will probably be beside the radio.
What if the attackers push close enough that the fighting positions have to be abandoned? Like anyone else, veterans will make their last stand in the house – and they know how to do that. The fall-back positions will be in windows, on the ground floor if possible to minimize dead ground. They'll be reinforced with sandbags, the glass removed and the openings covered with chicken wire to keep out grenades or Molotov cocktails. Mouseholes knocked in walls will allow quick movement between positions.
I've mentioned that radio a couple of times now. Veterans already tend to stay in touch with fellow vets. In a crisis they'll work hard to maintain those links, and radio is a method they're familiar with. Even if manpower is limited, a priority will be having someone at the radio round the clock, to stay updated on what's happening and ask for or offer help. Obviously, a permanently manned radio desk also makes a handy control point for defense and general admin.
In most other ways a veteran's bug-in plan is going to be the same as any other prepper's – military training doesn't tend to include much in the way of self-sufficiency, agriculture or animal husbandry – but the real difference will be in their ability to protect what they have. If you know any veterans, especially infantry soldiers, it's worth asking them to share their knowledge with you. Attackers who can bring in enough men and firepower will always be able to defeat you, but by using the tricks a veteran knows you can radically change what "enough" means.
You may also like: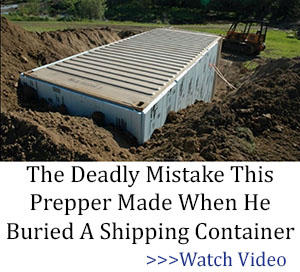 13 Weird Survival Tools Every Prepper Should Stockpile
DIY Generator (Video)
How to Tell When Your Canned Foods Become Spoiled?
13 Survival Foods You Should Always Have at Home